The NFC Innovation Awards recognize breakthrough products that showcase outstanding implementations and Most Innovative Uses of NFC. The free award program is open to member and non-member companies, or systems integrators, agencies, and media companies submitting on behalf of their clients.
2022 Innovation Award Winners
Every other year the NFC Forum rewards innovative products that implement NFC Forum technology. This year's Open Format looks to find new ideas that improve peoples' lives through contactless technology. Hardware, software, branding, embedded or integrated solutions are welcomed. The award program was open to member and non-member companies, or systems integrators, agencies, and media companies submitting on behalf of their clients.
Congratulations to the 2022 Innovation Award Winners for their "Most Innovative Use of NFC" solutions!
ASSA ABLOY Global Solutions and HID Global
Apple Wallet NFC-supported access solutions for enterprises and campuses by HID Global and hospitality (hotels) by ASSA ABLOY Global Solutions. Watch the video.
For hotels, via Mobile Access from ASSA ABLOY Global Solutions, room keys in Apple Wallet delivers an easy and contactless experience from check-in to check out. From a hotel's mobile app, guests can add their room key to Apple Wallet on iPhone or Apple Watch for easy access to guest rooms and other secured areas of the hotel. Addressing modern guest expectations for near-instantaneous room access, room keys in Apple Wallet represents a 'tipping point' in creating a digital game-changing experience that will drive an increase in digital key platform adoption rates.
Beyond enhancing guest convenience, room keys in Apple Wallet sidesteps the hassle of printing physical keys for hotel guests. With room keys in Apple Wallet on iPhone and Apple Watch, hotel staff can streamline key distribution and management across an entire property in just a few simple steps.
With employee badge and student IDs in Apple Wallet, offered by HID Global, users can access office doors, elevators, turnstiles, multi-function printers, dorms, libraries and much more using just their iPhone or Apple Watch. It's easy, convenient and secure. It integrates into existing access control systems, is simple to distribute and manage, and takes advantage of the built-in security features of iPhone and Apple Watch.
Blue Bite
Powered by NFC: How Blue Bite Helped eBay Usher in a Tech-Led Reimagination
In collaboration with eBay, Blue Bite introduced the Authenticity Guarantee, an innovative NFC-powered program that provides assurance of the authenticity of online purchases, including refurbished items, thereby dramatically improving the transaction experience for eBay consumers and sellers. Visit Blue Bite for more information.
Centiloc
Automated inventory solution
Centiloc has developed an automated inventory solution based on NFC. This helps companies to make their inventory by connecting their stock on shelves, in real time, to their ERP, WMS, PLM or MES. The system will give the complete list of products and their respective position at the cm level. This helps also to find products, thanks to a dynamic Pick to Light System. Learn more and visit Centiloc.
Control Techniques
Commander S & Marshal app
On April 5th 2022, Control Techniques, part of the Nidec group of companies, launched Commander S a new AC micro drive and a revolutionary app named Marshal.
Learn more
and visit
Control Techniques
.
With a feature set optimized for simple applications, Commander S provides a cost-effective solution for installations that require plug and play convenience straight from the box.
Amongst many benefits, the key USP for this product is that the Commander S incorporates NFC technology, making it the first drive to come with an app interface as a standard feature at no extra cost. Marshal revolutionizes how the user interfaces with the drive covering commissioning, monitoring, diagnostics and support.
Identiv
Identiv's Spoken RX reads prescription labels aloud for the visually impaired
Spoken RX in an NFC enabled solution that provides accessibility for the visually impaired so that prescription medication information is read aloud to alleviate any confusion regarding medication patients are taking. CVS and the American Council for the Blind wanted to address the challenges visually impaired patients face. Due to size limitations, adding braille or increasing font size on pill bottles was challenging. Identiv's RFID tag and proprietary Sporeader and encoding technology became the driver of this solution, known as Spoken RX.
---
2022 Innovation Award Finalists
Digital Temperature Indicator (DTI): an irreversible temperature label with visual and digital indication, integrated a passive RFID or NFC transponder
Cleantech, a deep-tech university spin-off specializing in advanced materials, has developed a novel temperature indicator based on thermoresponsive materials integrated with passive RFID/NFC labels.
Our "Digital Temperature Indicator" or DTI is an irreversible temperature indicator label that enables temperature tracking at the item level and presents the status in both visual and digital formats when an item is exposed to temperatures above a threshold point.
The core technology of the DTI is based on a patent-pending thermoresponsive material technology. The DTI is developed to extend the use of passive RFID/NFC labels to track and ensure the quality of temperature-sensitive products at the item level. The DTI combines the advantages of two technologies, passive RFID/NFC labels and time-temperature indicators.
Kaiconn Passive NFC Logistics Solutions
By leveraging the NFC radio frequency (RF) energy algorithm chip, Kaiconn's solution converts the RF energy of the transmitter into electrical energy and stores it efficiently during the communication process to achieve NFC energy harvesting. In this way, it ensures the driving of loads, frees from the constraints of battery, and brings more opportunities of developing the passive smart logistics.
Kaiconn's solution covers the following parts: NFC passive lock + recyclable box + SaaS cloud management system.
Socket Mobile's S550 Mobile Wallet Reader for the App World
Socket Mobile is continually innovating to provide solutions that meet or anticipate evolving market needs. Our data capture solutions are designed to be integrated with apps and to give the app provider and the app full control of the reader hardware. Socket Mobile takes care of all the messy details, and our goal is to remove the complexities of data capture. We capture data in the physical world and deliver it to our app partners for processing in their app. We keep our application partners top of mind as we consider new products to include in our growing portfolio of data capture and delivery solutions for enhanced productivity. With all this in mind, we created and launched the SocketScan S550 - a mobile wallet and contactless card reader/writer, designed to facilitate tap-and-go NFC applications.
The SocketScan S550 combines the latest 13.56 MHz contactless technology with Bluetooth LE connectivity and is built for easy and painless integration into apps. The S550 is NFC Forum, Apple VAS, and Google Pay certified and is the ideal reader for numerous loyalty programs, closed-loop payments, age verification via mobile driver's licenses (mDL), vaccine passport verification systems, and countless other applications.
NFC Powered Paper Dataloggers (TempSense, ShockSense and HumiditySense)
In the complex global supply chain, masses of valuable products are lost during transport and storage. Traditional dataloggers procedures are made of plastics, metals and other hazardous materials. We developed a breakthrough, yet cost effective and sustainable solution for this large problem by creating 100% recyclable paper data loggers made from agricultural waste that can measure temperature (TempSense), shocks (ShockSense) and humidity (HumiditySense) and can present the data through NFC to anyone in the world with a smartphone, without the need for apps or other hardware. Our solution is taking datalogging to an entirely different level and making this process fully sustainable.
A smart solution for temperature monitoring in the safe transport of biological samples
Safe logistics in healthcare: When transporting biological samples or temperature sensitive pharmaceuticals, it is vital that the transport conditions remain within set guidelines (within temperature limits and time). From now on, this can be monitored with TubeSense®: Equipped with an accurate temperature sensor and Near Field Communication chip (NFC), the reusable TubeSense® temperature logger offers a smart solution for the logistics of both biomedical samples and temperature sensitive pharmaceuticals.
---
Special thank you to the 2022 Innovation Awards Judges
Ben Wood, Chief Analyst, CSS Insight
Ben has over 25 years' experience in the mobile sector, most recently helping CCS Insight grow into a multimillion-pound business with a global team of highly respected analysts. As Chief Analyst, he oversees all CCS Insight's research deliverables and leads initiatives such as the annual Predictions event. As CMO, he is focused on building brand awareness, marketing programmes and supporting the growth of the business. Previously he led a global team of analysts as Research VP at Gartner. Prior to that he was a director of Mobile Streams, and held positions at Lucent Technologies and Vodafone. He is proud of having been involved in the launch of SMS and cellular data at Vodafone. In 2021 he was ranked as one of the top five tech analysts in the US and Europe by Apollo Research. He is frequently quoted in publications such as the Financial Times and The Economist, and regularly appears on the BBC and other media outlets. Ben is the founder and co-curator of the Mobile Phone Museum, a non-profit initiative to safeguard a vast collection of mobile phones and support education about communications technology.

Julien Veuillet, CEO, WAKDEV, 2020 Innovation Award Winner
Julien Veuillet is the CEO of WAKDEV, an IT company specializing in NFC & mobile solutions. Above all else, he is an online developer inspired by new technologies and innovation. Julian created the popular app called NFC Tools, which is available on Android, iOS and PC/MAC. NFC Tools is a user focused app with a simple and intuitive interface which allows anyone to discover and experiment with NFC. In 2020, his app won two NFC Forum Innovation Awards: one for Best NFC Application on iOS and another for the best NFC Application on Android.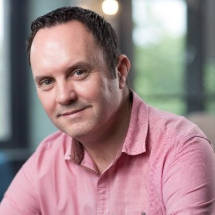 Pete Cunningham, Vice President, Product Portfolio Bullitt Group
Pete is a product leader focused on a user centric, research driven product management philosophy which has delivered unique, award-winning, products. As VP of Product at Bullitt Group, he leads the product group and has responsibility for the rugged propositions under both the Cat and Motorola brands which can be found in over 70 countries across the world. Prior to Bullitt, Pete was a highly respected Market Analyst and led the mobility research at Canalys where he provided insight and analysis to senior executives at the world's largest technology companies.