Webinar: The Circular Economy Redefined - NFC & the Digital Product Passport
When:
Tue, Dec 05, 2023 | 8:00 am - 9:00 amET
---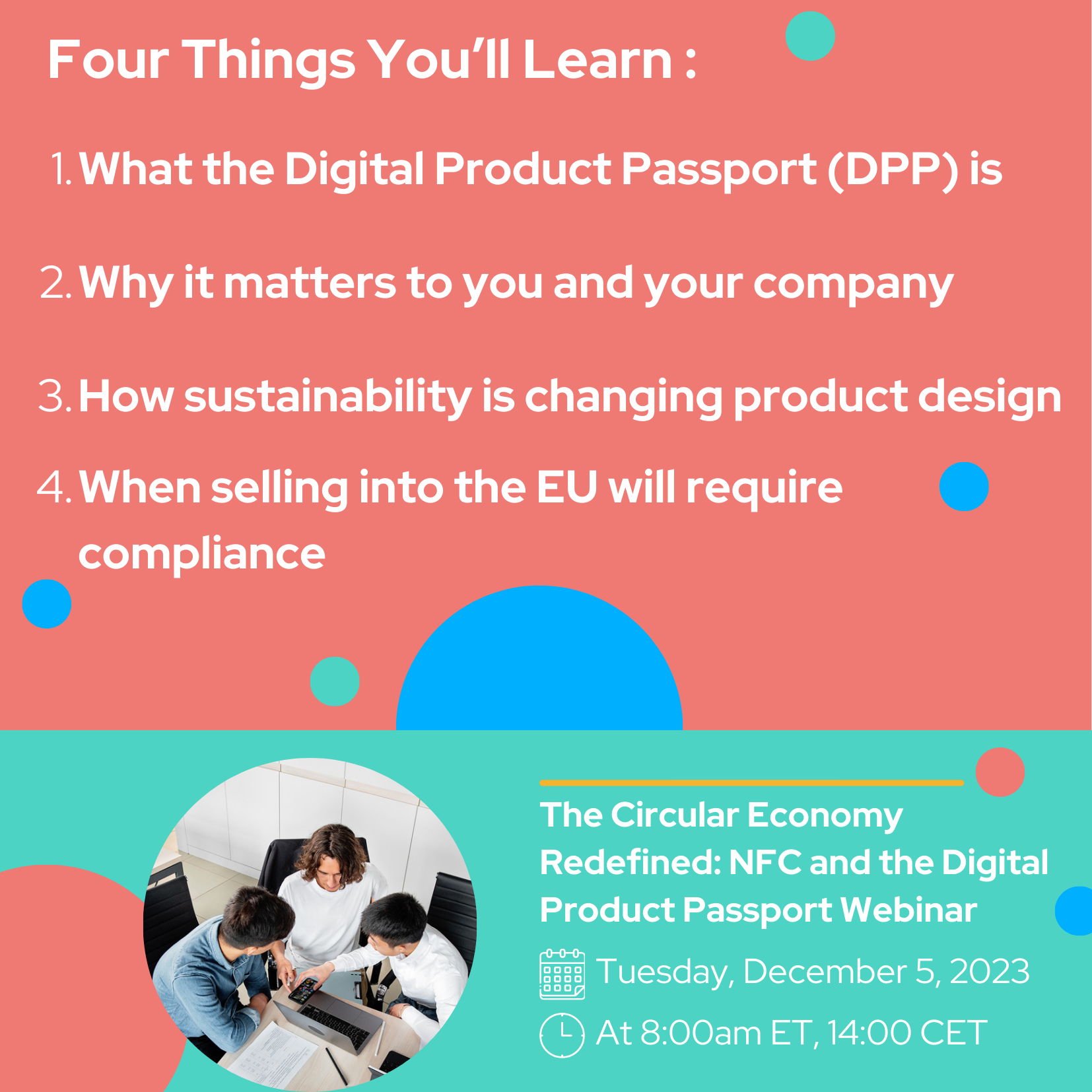 What is the Digital Product Passport - and why does it matter? Register now for this 50-minute sustainability-focused webinar to learn more.
Sustainability & the Digital Product Passport
The Digital Product Passport (DPP) while pioneered in the EU, stands at the forefront of the global sustainability movement – also known as the circular economy. Read NFC Forum's DPP overview.
The DPP is accessibly designed to deliver comprehensive product information for re-use, remanufacturing, and recycling by businesses and consumers.
Experts from leading companies and organizations will address the why the DPP matters, how they see future implementation, and how NFC can be used to amplify the DPP's reach, ensure data authenticity, and promote a truly global circular economy.
Who should attend this expert panel discussion?
Decision-makers and influencers within the sustainability ecosystem who want to learn about the DPP and what benefits that NFC technology brings to the table.
Providers of NFC technology who need an understanding of the how the DPP and NFC's sustainability initiatives help to elevate your product offerings.
OEM product managers, engineers, and designers eager to stay ahead of the curve, with comprehensive knowledge on innovative sustainability approaches for current & future products.
Panelists
Our expert panel includes leaders and influencers in the NFC and Sustainability industries. Each panelist will provide an overview of their organization's work in the DPP space and participate in a group panel discussion on the DPP and how it will impact product development.