Webinar: Technology Roadmap
When:
Tue, Jun 27, 2023 | 9:00 am - 10:00 amET
---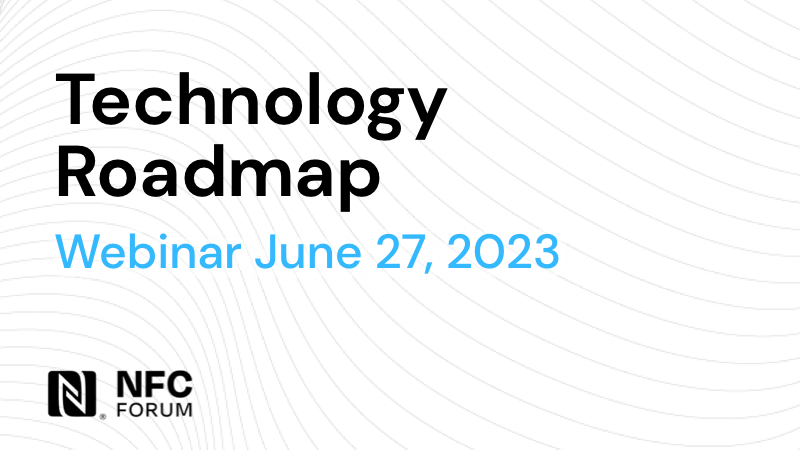 Join us for the highly anticipated public release of the NFC Forum Technology Roadmap, showcasing the collective efforts of Forum members, the industry's foremost NFC ecosystem leaders. In this engaging 60-minute live panel session, gain invaluable insights from the visionaries and key decision-makers within the Forum.
Explore the pivotal roles played by Special Interest Group Chairs, Working Group Chairs, and Committee Chairs as they delve deeper into the intricacies of ongoing work streams and the significant progress shaping the industry's trajectory over the next 2-5 years. Don't miss this opportunity to stay at the forefront of NFC technology development, standardization, and implementation.
Webinar Start Time: 9am ET, 14:00 GMT, 22:00 JST
The panel will share how five core deliverables of the NFC Forum Roadmap will shape the industry.
Increased Power for NFC Wireless Charging
Multiple-Purpose Tap
Increasing Range
Modernizing Device-to-Device Communication
Expanded Data Formats for New Use Cases
The NFC Forum Technology Roadmap plays a significant role in showcasing its vision and reflecting the interests of its members, giving insight into what the marketplace can expect to benefit from in the years to come. While some of these advancements are still in the research phase, others are already gaining traction in the market. With a clear roadmap in place, the dynamic network of chip, payment, technology, consumer and manufacturing organizations can prepare themselves for the future and help product managers stay ahead of the curve in the rapidly evolving NFC ecosystem.