2023 Stuttgart Member Meeting
Where:
Stuttgart, Germany
When:
Tue, Jul 11, 2023 - Fri, Jul 14, 2023
---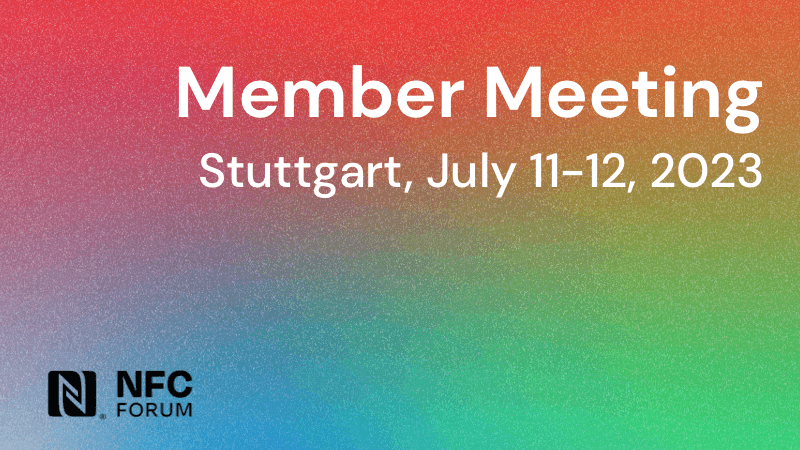 The NFC Forum hosts Member Meetings to create community, develop common interest in new markets, and makes F2F progress on shared work products. All Members are invited for a three day program that includes Committee, SIG, and Working Group meetings along with our Member Roundtable and networking receptions.
Registrations starts at $795 with discounted opportunities, depending on Membership Level, and our Early Bird discount which takes $100 off the original ticket price. Early Bird discount ends June 28, 2023. Jump to the FAQs. Thank you to our host Sony, for having us again in Stuttgart.
Agenda
We look forward to having NFC Forum members join for a week of in-person sessions. Please note the following schedule:
Members Meeting: July 11-12
Member Roundtable: July 13
Board of Directors Meeting: July 13-14
Working Meetings: Committees, Working Groups, Task Forces, and SIGs will be meeting throughout the day on Tuesday and Wednesday.
Each active Task Force, Working Group, Committee, and the Board of Directors with outstanding work items have a session at every Member Meeting. Visit the All Member Calendar for the specific Committee / Working Group / Task Force for individual session details.
*Please note, the schedule may be updated at any time. All meeting times are in CEST Central European Summer Time.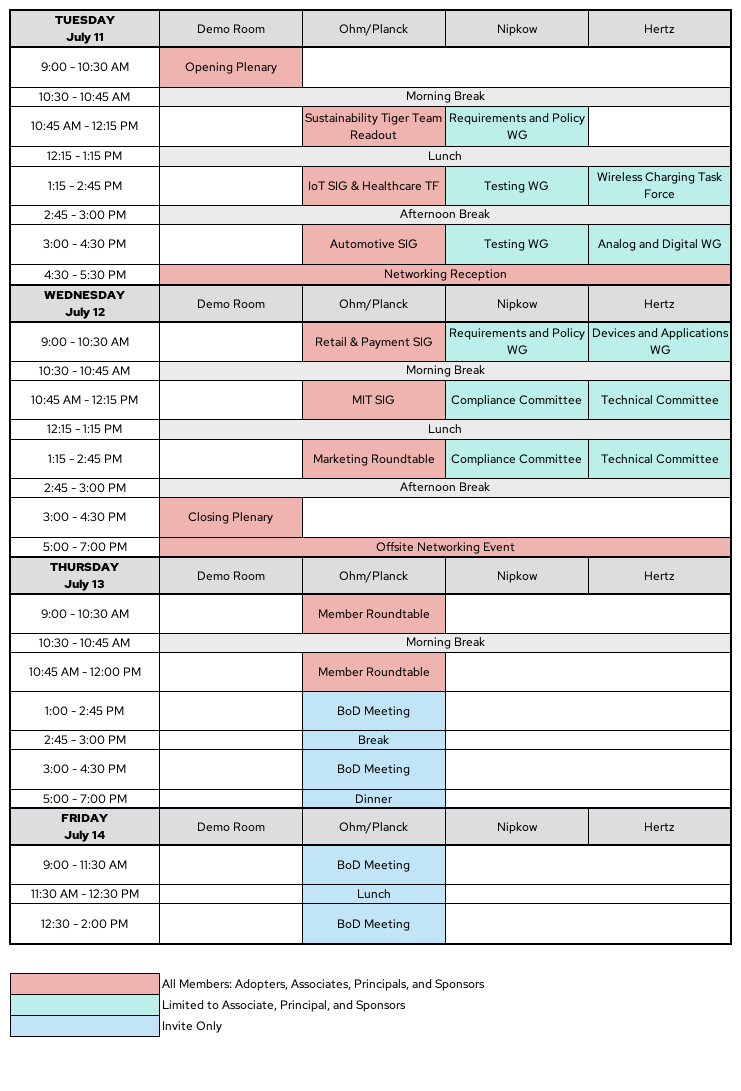 Venue Information
Sony Europe B.V. Zweigniederlassung Deutschland
Stuttgart Technology Center
Hedelfinger Str. 61, 70327 Stuttgart, Germany
Hotel Information
NFC Forum has a specially negotiated group hotel rate for all members. Rates below may sell out or change at any time, so we would advise booking as soon as possible. For other hotel recommendations, scroll to the bottom of this page.
Frequently Asked Questions
Visitor Information
Q: Do I need a visa to enter Germany for this conference?
A: Citizens of certain countries and territories need a visa to visit or transit Germany. Determine if you need a visa and what type here.
Q: I would like to explore Stuttgart while I am there. Where can I get more information about touring?
A: Information about activities and touring.
Q: What is the weather like in Stuttgart in July?
A: In July, the daily average temperature in Stuttgart is between 15°C (60°F) to 24°C (76°F)
Meeting Information
Q: What is the dress code for the meeting?
A: Business casual attire is encouraged for all meetings and evening events.
Q: I have special dietary needs. Who can help me?
A: You will be able to let us know any dietary needs (including vegetarian) when you register online through our registration system.
Q: My company requires an original signed receipt. Who can help me?
A: Email the Events Team (events@nfc-forum.org) with this request.
Q: May I have a list of attendees?
A: During registration, all attendees are asked if they wish to share their contact information with fellow attendees. This list (of those who wished to share their contact details) will be available at the registration desk.
Q: Will there be internet access in the meeting room space?
A: The NFC Forum will be providing attendees with Wi-Fi while at the meetings (in the meeting space only). Details will be provided onsite.
Q: Will I be able to access my company's VPN if I use the NFC Forum's Wi-Fi for the meeting?
A: Yes, you should be able to connect to your company's VPN when using the Wi-Fi; please check with your IT team before traveling to ensure you have everything you need to connect.
Member Information
Q: How do I sign up as a new member on the website?
A: To sign up as a new member:
From the NFC Forum website, click Member Pages in the upper right of the screen.
Click the green SIGN UP button.
Fill in the Company Representative Signup page and click Submit Application at the bottom. Be sure to enter your phone numbers. Your email domain name MUST match the domain name(s) listed on your company's membership application or you cannot sign up. If you have a problem, contact membership@nfc-forum.org
You will receive a welcome email with login information. Log on and change your password.
Q: How can I join a Committee or Working Group?
A: Members can make a request directly from the NFC Forum website. Options are available according to your membership level.
Q: How can I view a Committee, Working Group, or Task Force that I have joined?
A: From the Workspace, click Groups from the menu, and then click My Groups. Scroll down to see a list of the Committees, Working Groups, and Task Forces that you have joined. Select the group to view the group's work area.
Q: How do I record my attendance while at the meeting?
A: To record your attendance:
As soon as the meeting starts, go to the Workspace.
Select your meeting and click Record Attendance.
Hotel Recommendations
Hotels near Sony:
Ulmer Str. 323
70327 Stuttgart-Wangen
Tel: +49-711 -407050-0
Fax: +49-711 -407050-99
Ulmer Str. 331 -337
70327 Stuttgart-Wangen
Tel: +49-711 -4016-0
Fax: +49-711 -4016-333
Hedelfingerstr. 21
70327 Stuttgart-Wangen, Germany
Tel +49 711 -459581- 0
Hotels close to the city center:
Willy-Brandt-Strasse 30
70173 Stuttgart
Tel: +49 (0) 711 2221 -0
Heilbronner Str. 88
70191 STUTTGART - GERMANY
Tel: (+49) 711/255580
Fax : (+49) 711/25558100
Others:
Mercedesstrasse 75
70372 Stuttgart
Tel: +49 (0) 711 90055-0
This Google Map gives an overview of the locations of the different Hotels